Sunday January 1, 2023 | VICTORIA, BC [Updated Jan 2, 2023]
by Mary P Brooke, editor | Island Social Trends
---
The first baby born in BC in 2023 was welcomed into the world by her parents and staff at Abbotsford Regional Hospital at 12:02 am.
The newborn infant girl, weighing five pounds and 10 ounces, has been named Gabriella Louise V Camayang by her parents Arben Camayang and Thea Villaneuva.
The BC government congratulated the family on Twitter, as did Fraser Health.
"BC's New Year's Baby is a girl!", as posted by BC government staff. "Congratulations to the family!"
First-born baby of the year:
For some reason announcing the first baby of each new year is a tradition in mainstream media. This year's first-baby parents reportedly said they didn't even realize it was a thing.
Certainly it gives everyone an opportunity to reflect on the cycle of life.
But it's also a betting opportunity. This year BC Lottery Corporation ran a bet on which health authority would see the first baby born in the province in 2023. The odds for Abbotsford Regional Hospital were 10 to 1 (booking closed at 6 am on Dec 31, 2022).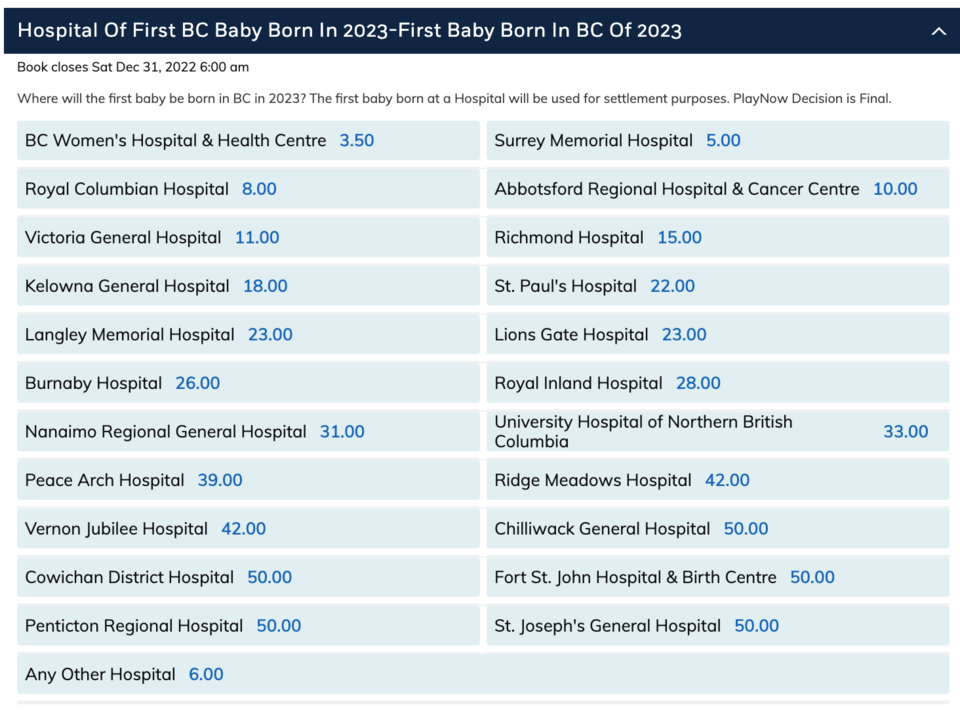 Babies born this winter are arriving during a heightened respiratory season of infection by flu, RSV and COVID, but without a dominating concern about COVID as was experienced in January 2021 (immunization was just beginning) and 2022 (Omicron wave of COVID).
First born babies of the calendar year are Capricorn by astrological sun sign (disposed to roles of social authority). Being born on the first implies an opportunity for leadership.
Fewer babies during pandemic:
BC Health reported last week that only 37,801 babies had been born in BC in 2022 (to December 8); the Ministry of Health says it expects approximately 40,000 babies by year-end.
That's still down from 40,333 babies born in BC in 2021 (to December 15, 2021), and the 42,413 babies born in this province in 2020.
In pre-pandemic years, the number of babies born in BC was higher: 43,878 in 2019, 44,050 in 2018, and 45,045 in 2017. In those years the economy was relatively stable if not fully robust.
The COVID-19 pandemic was officially declared in mid-March 2020, and while immunization has helped life get back to normal there is the added concern about cost of living in BC this year.
Meanwhile, in-migration to BC has been on the upswing. There were about 100,000 new BC residents in 2021, and so far about 80,000 tallied for 2022 (mentioned last month with some concern by the former BC Finance Minister and the new BC Premier, as housing and other services need to keep up).
Top baby names in BC:
Baby names have been pretty consistent over the past few years in BC, with Olivia and Oliver in the top ranks.
In 2022, Noah rose to the top name (usually for a boy), with Olivia coming in second, followed by Oliver, Liam, Theodore, Jack, Emma, Lucas, Leo and Sofia, according to the Vital Statistics Agency's preliminary figures for 2022 (to December 8).
In 2021, Olivia was the front-runner for the most popular name for babies born in BC. That's followed by Liam, Noah, Jack, Emma, Benjamin, Theodore, Oliver and Charlotte. All of that from Vital Statistics Agency preliminary figures for January 1 to December 15, 2021.
Only names that occur five or more times are listed. Stats on baby names are maintained by BC Vital Statistics: Most popular baby names | Baby Names in BC – sort by year
In both 2020 and in 2019 in BC, the most popular baby name for girls has been Olivia, with Emma coming in second in both years. In 2020 the name Liam was the most popular for boys, with Oliver coming second (in 2019 Oliver was first).
For nine of the past 10 years, Olivia has been among the favourite names for babies born in BC, according to BC Vital Statistics.
A few years ago the BC Government started reporting names in order by prevalence first (only names that occur five or more times are listed), and not separating them by usual gender assignment (i.e. girls and boys).
===== PREVIOUS RELATED ARTICLES by Island Social Trends:
Kindergarten Registration in SD62/westshore for Sept 2023 (Dec 30, 2022)
NDP Leader is a new dad! Baby girl born Jan 3 (Jan 6, 2022)
First baby of 2022, Olivia & Liam again popular names in BC (Jan 1, 2022)
New year's baby 2021 just hours away (Dec 31, 2020)
Top baby names in 2019 | Top baby names in 2018
===== ABOUT ISLAND SOCIAL TRENDS:
Island Social Trends is a professional news service that covers news of the west shore, south Vancouver Island, BC and national issues.
Island Social Trends launched entirely online at islandsocialtrends.ca in mid-2020, in the footsteps of its predecessor publications MapleLine Magazine (2008-2010), Sooke Voice News (2011-2013) and West Shore Voice News (2014-2020).
Editor and publisher: Mary P Brooke, B.Sc. | ARCHIVES: HEALTH | VANCOUVER ISLAND
Island Social Trends posts daily on Twitter @IslandSocTrends for a regional, BC and national audience; for the west shore audience we also post on Facebook at @IslandSocialTrends.